LOCAL FULL-SERVICE JUNK REMOVAL & HAULING COMPANY
If you're like most people, your home is filled with junk that you don't need. Old clothes, broken appliances, toys that your kids have outgrown–it can be hard to know what to do with it all. Including yard waste, old furniture, and general household clutter, the mess is never-ending. Fortunately, Trash Transporter is here to help!
We are a locally owned and operated junk removal company that serves Kitsap County. Moreover, our team provides our customers fast, friendly, and affordable service. So, whether you need help clearing out your garage or hauling away an old fridge, we will get the job done quickly and efficiently. And because we recycle and donate as much as possible, you can feel good knowing that your junk is being put to good use.
With our network of authorized donation centers, recycling centers, and transfer stations, it's easy for us to dispose of or recycle your junk properly. In addition, our team will provide you with a free estimate before we take your trash, so there are always surprises.
JUNK REMOVAL AT YOUR DISPOSAL
Trash Transporter has the best capable team in the junk removal business. We are local professionals working in residential or commercial areas. Moreover, our team does things the right way so your home or business can return to what matters: a home project or business venture.
In addition, we do all the heavy (and light) work; Trash Transporter donates, recycles, or disposes of your items; and we leave you with a clean, swept area, providing a complete service. 
You're in excellent hands when you rely on us for your junk removal services. If you're in Bainbridge, Bremerton, Gig Harbor, Kingston, Port Orchard, Poulsbo, Silverdale, and Tacoma, call now for your free estimate.
WHY CHOOSE TRASH TRANSPORTER?
Trash Transporter is Kitsap County's team of licensed and insured professionals. We have many years of experience in fast and efficient junk sorting and removal. From scrap metal to hazardous materials, our professionals arrive promptly with everything needed to clean up your property. Rather than risk injury, infection or damage, it is highly recommended that you contact experienced professionals.
We are the company to call when you have unwanted trash that needs to be gone for a long time now. We have been assisting customers throughout Kitsap County and surrounding areas in helping clear out their unwanted possessions. We guarantee proper disposal or recycling of your stuff.y.
We are locally owned and operated, meaning all our revenue stays in Kitsap County. You can support your local small business by choosing Trash Transporter – what are you waiting for? Don't let junk take over your precious space. Call us today or book an appointment online and let our junk removal experts help you.
Depending on availability, we can schedule a junk removal appointment as early as tomorrow. Once we receive your online booking, we will contact you to confirm. With our service, you only pay for the space you use. Prices will be based on the volume of each load. We look forward to helping you declutter your life with our local junk removal services!
JUNK REMOVAL AT YOUR DISPOSAL
We're as-local-as-it-gets junk removal professionals who tackle any residential or commercial job. Our company is the most capable hand in the business. The clean-cut, uniformed team of Transporters are Get-the-Job-Done-Right kind of guys. Additionally, our crew believes in doing things the right way so you can return to what matters – a home project or a business venture.
Trash Transporter provides full-service junk removal. It means we do all the heavy (and light) lifting; we donate, recycle, or dispose of your items; and leave you with a clean, swept area. 
When you work with our licensed and insured professionals, you can confidently deal with our reputable company. We'll have the necessary permits to operate in your area and be fully insured if something goes wrong.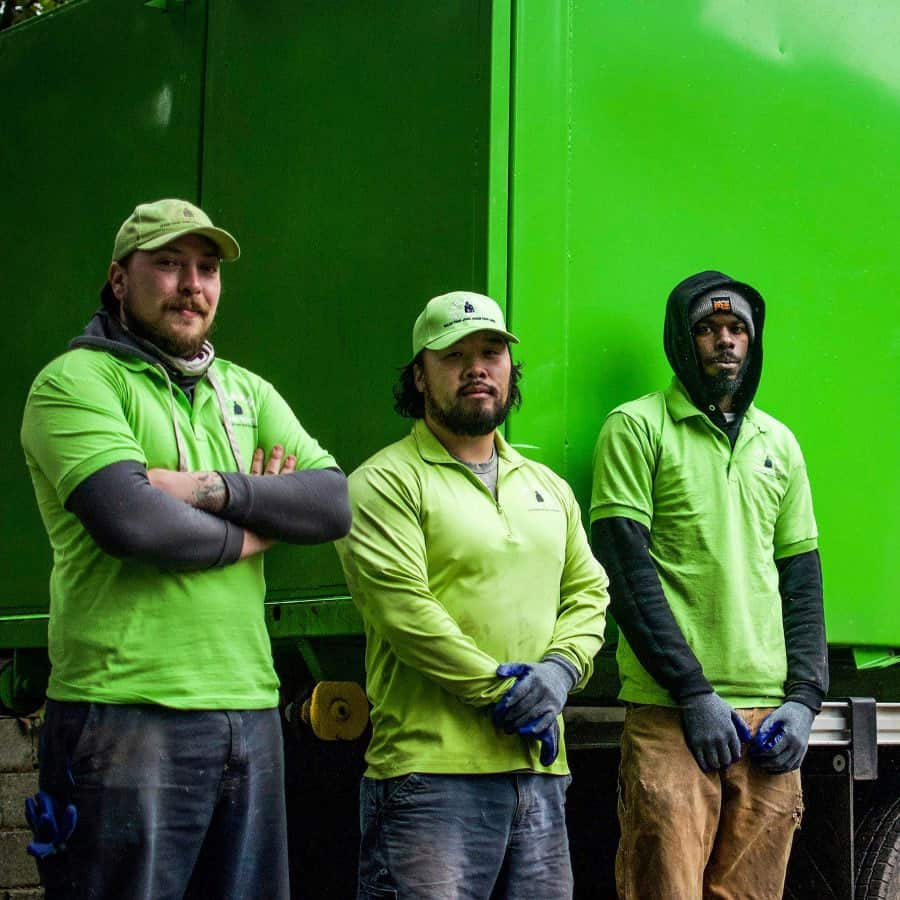 At Trash Transporter we address all your junk removal concerns with a well planned, fast and affordable priced strategy. We make getting rid of your trash easier and more with the best crew and techniques on board.

5% off for every 30 minutes late, up to 15%. Whether it be just some old furniture that needs to go or an entire house full of junk or large bulky items that need to be removed, don't hesitate to call on our experts today.

Quote will not change! All our rates are based on the volume that the scrap occupies in the truck. Once we know everything you want to remove, we will give you our estimate. Trash Transporter do all of this before we start any work.

COMMUNITY SUPPORT DISCOUNT
At Trash Transporter, we are thankful for those who serve our country and our community. We offer a $25 discount on all of our services for military, teachers, first-responders, small businesses, etc. This discount can be used as many times as you want.
JUNK REMOVAL IN KITSAP COUNTY
HOW DOES OUR JUNK REMOVAL WORK?

Contact us through text, email, or phone and detail what you want to pick up, and we'll provide you a rough estimate of what it'll cost to remove your junk.

We book our appointments with a 2-hour window to ensure we can manage our trucks and keep our customer's expectations high.

Our professional team will call you 30 minutes before arriving to ensure you are still ok with the time you booked. Once they come, they'll provide you with a free, no-obligation quote to remove your junk.

Once there, our crew will remove any junk you point out to them. Then, they'll start loading up the truck, doing all the heavy lifting, and getting ready to go.

After you sign off on the work done and are happy with our service, our junk removal team will head out and start the process of recycling and donating your junk items.
ECO-FRIENDLY JUNK REMOVAL IN KITSAP COUNTY
Throwing away junk is much more than just removing the things you no longer need. For Trash Transporter, with the planet's welfare in mind, finding environmentally friendly ways of disposal is crucial to our operations. Unfortunately, not all trash collection services are as conscientious as we are. Some pick up the trash you order from them and dispose of it immediately, disregarding the many disposal options available. 
However, when you choose Trash Transporter, you know the importance of caring for the environment and helping to save the planet while getting rid of things you don't need. Before removing anything, our team will review the items you are getting rid of. We set aside anything we think may be of value to you, and the rest we put on our truck. We do this to ensure you are not inadvertently throwing away things you want.

Once you have reviewed the things we have set aside and feel that they are indeed things you want to get rid of, everything is placed on our truck and transported to our facility. At our facility, another sorting is done. It is to separate items that can donate from those that cannot. These other piles are sorted again. Things that can recycle immediately are separated from those that may need work before being recycled. We then donate the items marked as ideal for donation to charities, thrift stores, and other worthwhile causes that we believe in.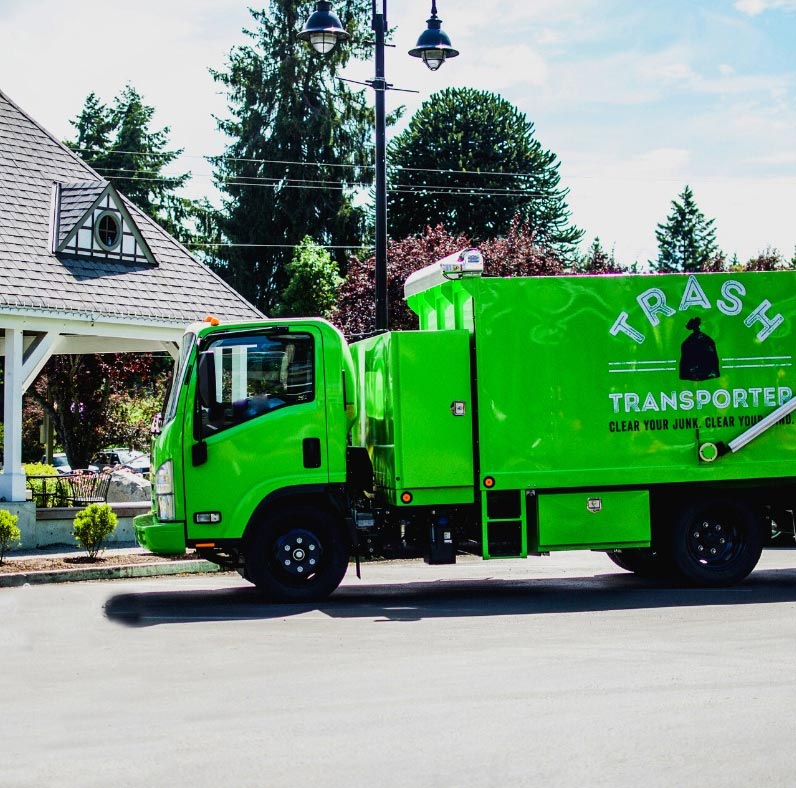 #1 RATED JUNK REMOVAL COMPANY
IN KITSAP
With a range of services to make your junk removal project run as smoothly as possible, Trash Transporter is the #1 company that will take your waste off your hands. In addition to junk removal, we specialize in cleanups and demolitions, which is why we have positioned ourselves as one of the favorite local companies. Our preparation, protocols, professionalism and safety make our team the best in the industry.
Want to make sure your junk is handled responsibly and recycled to avoid contributing to overloaded landfills? At Trash Transporter, we take care to recycle as much as possible.
"These guys were GREAT! They called when they said they would and showed up on time. Everything was cleaned up perfectly, even in the rainy weather. I woulduse them again and certainly would recommend them. They wanted to work with me to make sure I was happy and get the job done right." – Nancy T.
"Trash Transporter will take almost anything. They are fast, thorough, and responsible. I have used their services several times to clean out a large estate." – Maia P.
"They did an amazing job, and I would definitely recommend them to anyone who would need it." – Shaun G